Technology company InfinitePay Limited has combined blockchain programming with wearable technology to help more people lead healthier lives.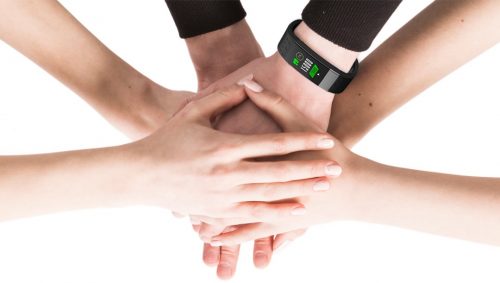 New Zealand - September 9, 2019 /MarketersMedia/ —
Reportedly the world's first blockchain-powered fitness band, the InfiniteBand is a data tracker and lifestyle band that monitors vital information for the everyday user, such as calories burnt, steps taken, heartrate and blood pressure.
With its accompanying fitness app, the InfiniteBand also offers something novel - an exclusive 'Burn to Earn' wellness programme powered by blockchain technology, which will help to ease users into the world of blockchain.
According to Mr Tom Wills, chief executive officer of InfinitePay Limited, the InfiniteBand is "a sleek fitness and lifestyle assistant that maximises productivity and enhances health while rewarding users for doing so."
The Burn to Earn philosophy is simple: Burn calories to earn rewards. Participants can download the free InfiniteBand app and immediately start earning with the Burn to Earn Programme after pairing their InfiniteBand. Every successful completion of a Burn to Earn challenge will reward users with fitness credits and these may be used to redeem products and services from participating platforms and merchants
The InfiniteBand, the Burn to Earn programme and the fitness credits are the building blocks of a larger blockchain ecosystem envisioned by InfinitePay Limited, a technology company headquartered in Auckland, New Zealand. The company aims to be an autonomous and self-sustaining value exchange platform that can spearhead adoption of blockchain technology through everyday products and services.
"For InfinitePay Limited, the InfiniteBand and Burn to Earn programme represent more than just sales and revenue. In particular, our latest brainchild, InfiniteBand, is the first step to easing the world into a new digital era of blockchain adoption. By integrating this nascent technology into familiar everyday gadgets, InfinitePay Limited hopes to gradually guide the world to adopt blockchain technology, in the same way that Web 2.0 transformed the world before."
"And finally, for the blockchain community, this is a big step towards mass adoption. Disruptive as the technology may be, it need not necessarily throw the world into confusion. We are excited to see how InfiniteBand, powered by blockchain, is received by the general public. If it is well-received, we know we have succeeded in taking our first step to making blockchain accessible to the masses."
Issued by Marketing & Communications, InfinitePay Limited
For more information, please contact:
Cheryl Lim
Marketing & Communications Lead
E-mail: marketing@infinitepay.net
About InfinitePay Limited
InfinitePay Limited is a technology company headquartered in Auckland, New Zealand. The company explores and employs cutting-edge technology to reach their goal of rapid application and diffusion of innovations that cause significant change in society. Established to make emergent technologies ubiquitous to advance the quality of living on a global scale, the company envisions a vibrant world that can leave everyday burdens to technology. The suite of InfinitePay Limited products can be found at http://ifr.life.
For more information, please visit InfinitePay Limited's website at http://infinitepay.net .
Contact Info:
Name: Cheryl Lim
Email: Send Email
Organization: Marketing & Communications, InfinitePay Limited
Website: http://infinitepay.net
Source URL: https://marketersmedia.com/new-zealand-tech-company-debuts-worlds-first-blockchain-fitness-band-that-promotes-a-healthier-lifestyle/88916676
Source: MarketersMedia
Release ID: 88916676